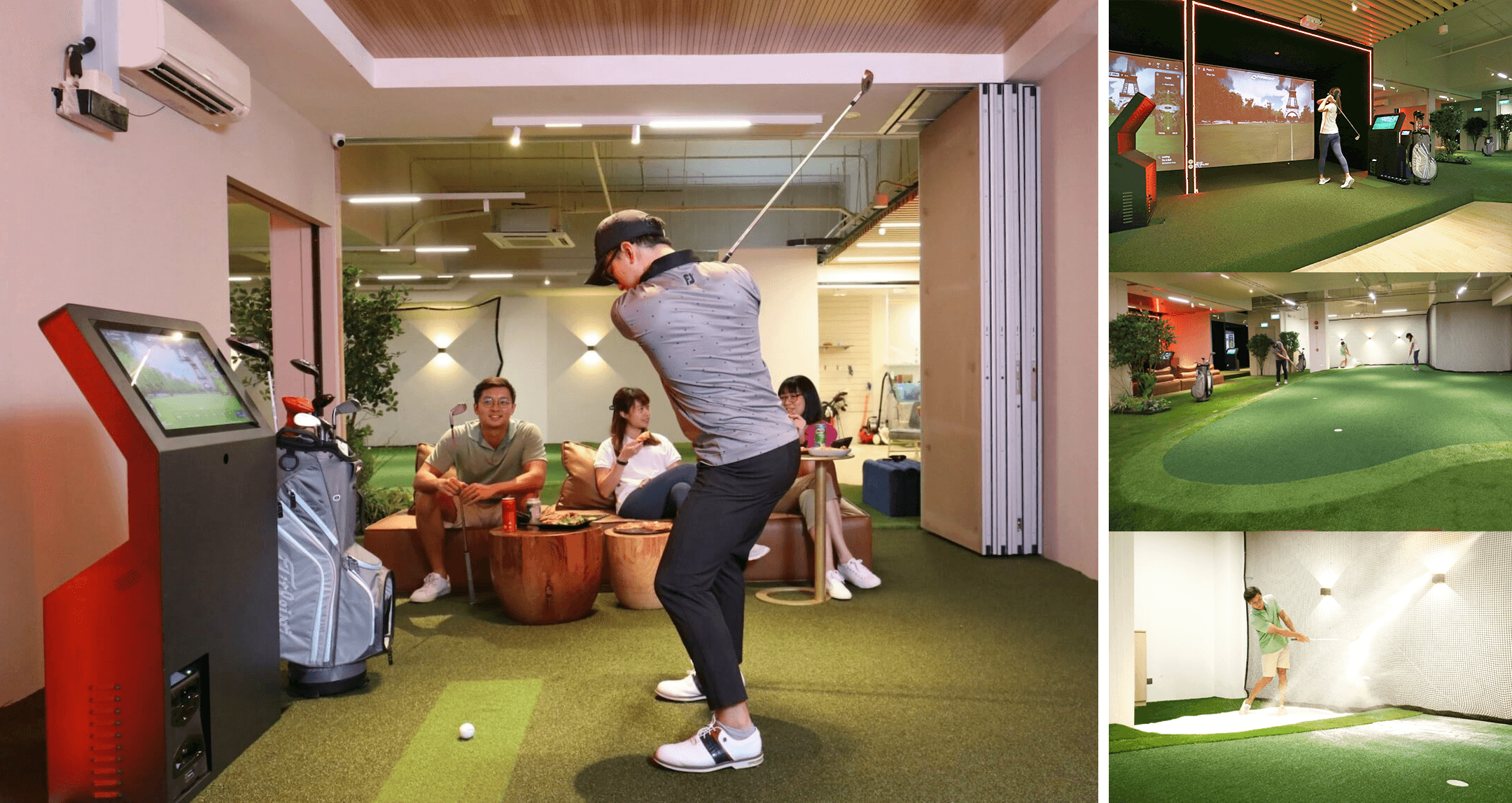 THE SAME GAME, NOW WITH A BRAND NEW ENVIRONMENT.
Premier Golf™ is Singapore's largest indoor golf facility, spanning ~5000sqft featuring 4 bays and 2 private suites with world class Foresight FSX Play simulators and high speed cameras – the next evolution of true-to-life graphics and hyper realistic gameplay.
Lower your scores with better chipping/putting rain or shine at our expansive indoor short game area, with a variety of slopes for creative play, complete with Singapore's first indoor sand bunker!
Operating Hours:
Tuesday-Friday (2pm to 9pm)
Saturdays (9am to 9pm)
Sundays (9am to 8pm)
Location:
Premier Golf™ @ Safra Mt Faber
Facilities:
⛳ 4 Driving Bays (Auto-Tee)
⛳ 2 Adjoining Private Suites
⛳ Indoor Short Game (Chip/Putt)
⛳ Indoor Sand Bunker
⛳ Certified Club Fitting Studio (Formerly @ Keppel)
⛳ Lounge Area (Food & Drinks)
⛳ Top End Titleist® Clubs (incl Vokey Design & Scotty Cameron)
DRIVING BAYS AND ADJOINING PRIVATE SUITES
Enjoy a leisure game of golf at one of 4 bays or 2 private suites. Take your pick from over 20 world-renowned courses or your favourite local golf courses.
EXPANSIVE INDOOR SHORTGAME AREA
Practice short game in comfort at Singapore's largest indoor shortgame area, for complete chipping/putting and sandbunker practice.
WORLD CLASS FORESIGHT SIMULATORS
Featuring the latest Foresight FSX Play simulators paired with the industry's most accurate GC3/GCQuad launch monitors and high speed cameras, offering precise ball and club data with instant video playback to improve your game.
TOP END TITLEIST® PERFORMANCE CLUBS
Bring your clubs, or leave them at home and experience playing with the latest performance clubs from Titleist® (including Vokey Wedges and Scotty Cameron Putters).
CLUB FITTING STUDIO
Play your best game with the right clubs customised or repaired by our certified fitters. Get instant feedback at our simulators to optimize your equipment.
LOUNGE AREA
Take a break and enjoy some finger food or watch the latest golf tournaments with your buddies at our visitor's lounge area
FREQUENTLY ASKED
BOOKING FEES
Facility
Price (Peak/Off-Peak)
Driving Bay
(up to 4 pax for range & courses)
$45 per hour (peak)
Private Suite
(up to 6 pax for range & courses)
$65 per hour (peak)
Short Game
(including sandbunker)
$10 per pax / $5 (with bay/suite booking)
Off-Peak Promotion


(Tuesday to Friday, 2pm-6pm)

35% Off Bay Bookings
*Booking and prices are per bay/suite regardless of pax. Each bay/suite can accommodate up to 4 or 6 pax respectively.
*Estimate play time required per pax: 30-45 min for 9 holes, 60-90 min for 18 holes
*SAFRA members enjoy 10% discount on top of flat rates
BOOK YOUR SLOTS TODAY
Limited slots available. Book yours below or whatsapp us at 82088799 to book now!
*You can select multiple timeslots below before proceeding with your booking
*Please indicate in the request/comments section if you require a left hander bay (clubs unavailable)